Blog
Return
Historic Macon To Host It's Annual Design • Wine & Dine For A Fifth Year
Join Historic Macon Foundation for its annual fundraiser, Design, Wine, & Dine, a lifestyle festival and sensory celebration featuring individual events throughout June – September that brings new ideas to historic places and celebrates Macon's historic neighborhoods. During the festival, tour houses in Beall's Hill and Idle Hour, dine in saved Fading Five locations, and celebrate history throughout Macon.

The schedule of Design, Wine, & Dine experiences includes the following:


Thursday, June 21
Summer House Crawl
6-8pm • 900 Block Ash Street • $10/ticket
Get to know HMF by visiting our target neighborhood, Beall's Hill, on the 900 block of Ash Street for a house crawl. This block features historic rehabs, new builds, small houses, large houses, and everything in between, a perfect picture of our block-by-block approach. Featuring DJ B3, food trucks, and activities for kids sponsored by the Beall's Hill Neighborhood Association, it is the perfect way to start the summer.


Saturday, June 23
Brunch @ the Grotto
10am-noon • 3875 Overlook Ave • $50/member ticket • $60/non-member ticket • Limited to 50
Visit this significant Macon site, which was once an HMF Fading Five. Saved earlier this year, this Design, Wine, & Dine event will be the first official tour since its new ownership. In the 1933 W. Elliott Dunwody Jr. home of Thomas and Taylor Reichert, known as Merriewoode, the morning will start with brunch, mimosas included. Followed by tours to the landmark, led by Macon's own Stephen Reichert.


Thursday, July 12
Dine @ the T.J. Ware House
6-8pm • 1107 Oglethorpe Street • $50/member ticket • $60/non-member ticket • Limited to 50
A former Fading Five, this house has been lovingly restored by Ryan and Ashley Griffin. HMF is excited to host the first public event in this historic home on Oglethorpe Street for our Design, Wine, & Dine summer series. Featuring outdoor décor, curated by Meagan Evans of Society Garden, we will be sharing tips to design your outdoor space in a creative way. The evening will also feature local musician Baxter James, fresh, summer eats by GROW, and an open house.


Sunday, June 18
Downtown Loft Tour
6-9pm • Multiple Locations • $45/member ticket • $55/non-member ticket • Limited to 60
Journey with us to and through three amazing downtown lofts. Each loft is a modern example of historic preservation and will feature a unique cocktail and progressive eats; this loft tour will be unforgettable! Preservation can take many forms and though we typically think of historic houses, our hosts have tapped into a unique, emerging form of preservation. Their move to the loft lifestyle is a bold statement, pioneering the way for a broader understanding of how historic spaces are preserved yet reinterpreted to fit modern needs. Don't miss this trio of lofts in our Design, Wine, & Dine summer series.


Friday, August 3
Preservation Pop-Up Speakeasy
7-10pm • Undisclosed Location • $25/member ticket • $35/non-member ticket • Limited to 50
Dust off your suspenders, your fringe, and your Charleston for a swinging time at our annual summer speakeasy! At an undisclosed location, we'll immerse ourselves in the world that might have been, take a glimpse at what actually was, and imagine what could be. History comes alive in Macon's forgotten spots with music, dancing, and signature cocktails.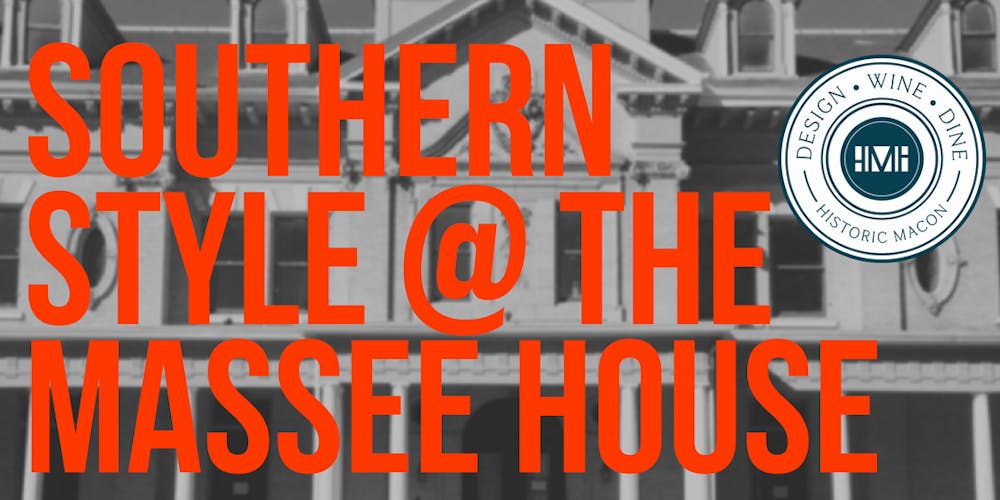 Thursday, August 30
Southern Style @ the Massee House
5:30-7:30pm • 615 College Street • $75/member ticket • $90/non-member ticket • Limited to 18
Join us at one of Macon's finest architectural gems, for a cooking demonstration with renowned Macon chef, Drew Jennings of H&H Soul Food, a cocktail class with Moonhanger's star mixologist, and floral arranging by Little Blue Knot Design. Fantastically restored by Michael and Bridget Wright, this historic home is the perfect backdrop for our foodie fascination.


Saturday, September 8
Tour of Design
10am-3pm • Idle Hour Neighborhood • $20/member ticket • $25/non-member ticket
For our inaugural Tour of Design, residents in the Idle Hour Neighborhood open their homes. Each house will feature a unique experience of design and architecture. This multiple house tour will showcase Macon's finest historic homes ranging in dates from early mid-century to the modern day.


Sunday, September 9
Wine & Dine Lawn Party
7-9pm • 971 Wesleyan Drive • $90/member ticket • $100/non-member ticket • Limited to 100
The Wine and Dine Lawn Party will be a dinner that is held on the beautiful lawn of Chris and Ramona Sheridan's house. Closing out our summer series, this lawn party will feature live music, a wine tasting by Francis Ford Coppola Winery, fresh food, and local chefs.

All proceeds from Design, Wine, & Dine support Historic Macon's mission of revitalizing our community by preserving architecture and sharing history. Visit www.historicmacon.org or call 478-742-5084 to purchase tickets.
posted 06/19/2018 in Events
Tags:
---
Comments:
No comments have been posted.