Top 5 Bragg Jam Picks for the Under 40 Crowd
The lineup is complete and the countdown begins for the upcoming 2016 Bragg Jam Concert Crawl. Here are some of the great bands that are lined up for Saturday night's festivities.
1. shakey graves
Stage: Cox Communications Stage at The Cox Capitol Theatre
Performance Time: 10:45pm - 12:00am

Shakey Graves, aka Alejandro Rose-Garcia from Austin, Texas, plays a gnarly composite of blues and folk as a one-man-band of epic sonic proportions. The sound emitted from his hollow body guitar, mildly distorted amp and suitcase drum belie the young singer's lean frame. He fingerpicks while keeping time with a double-pedal kick drum, hitting a snare fitted into his suitcase drum and a tambourine fashioned to its side. And when he sings, Rose-Garcia unleashes an unearthly howl. Gritty groans and sexy moans carry his stories of both accepting and trying to overcome personal challenges masked with old-timey Western imagery.
2. abbey owens
Stage: Just Tap'd Stage at Just Tap'd
Performance Time: 8:30pm - 9:30pm
Abby Owens is a storyteller with songs. Her inspirations are real stories from her life – the people, happenings, emotional responses and everyday occurrences that affect her daily life. For Abby," music is a heartfelt connection; it's a personal conversation between you and me. It won't always be pretty but it will always be true. If you're in my life, you're in my music."
3. the lonely biscuits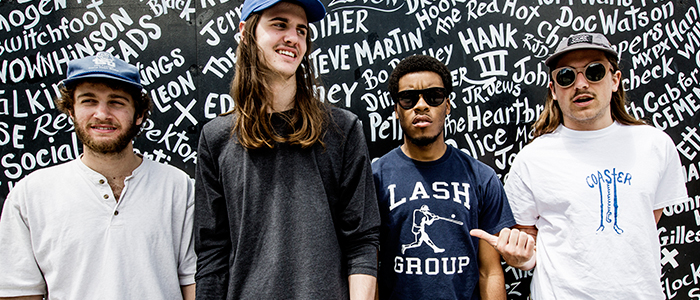 Stage: Cox Communications Stage at The Cox Capitol Theatre
Performance Time: 5:30pm - 6:45pm

The Lonely Biscuits are an alternative rock band hailing from Nashville, Tennessee. The Lonely Biscuits first started gaining attention on college campuses around the country, while they were still students themselves. The last four years the band has been headlining small clubs across the U.S. and opening for other national touring acts. The Lonely Biscuits have played on numerous festival stages such as Bonnaroo, Lollapalooza, Hangout Fest, Austin City Limits, LouFest and South by Southwest. In 2013, MTVu named The Lonely Biscuits "College Artist of the Year", and gave them the opportunity to play alongside Macklemore, Tegan and Sara, Alt-J and many more at the MTVu Woodie Awards in Austin, Texas.
4. josh thompson
Stage: The Macon Telegraph Stage at The Crazy Bull Main Room
Performance Time: 12:00am - 1:30am

If you want to know Josh Thompson, just listen to the lyrics of his music. Thompson showcases his undeniable gift for writing with songs like the anthemic "Way Out Here," or the unapologetic "Blame It On Waylon," and on his upcoming projects, the "aw, shucks" admittance of "Same Ol' Plain Ol' Me," the nod to his humble background, "Daddy Had A Beer," and the breathtakingly poignant "I Like To Believe In That." They're songs born of a hard-working, blue-collar raising. The son of a Wisconsin concrete worker, destined to follow in the steel-toed boots of a laborer, Josh veered to the left when he picked up a guitar, but he didn't quite realize the course he had steered himself down until much later. While he may have picked up a guitar a little later than most, his natural talent was apparent. Josh made the move to Nashville in January 2005 and by August, he had signed his first publishing deal. One of the first songs he wrote, "Church Pews Or Bar Stools," became a Jason Aldean cut.
5. maggie renfroe

Photo - Kirstin Israel
Stage: Bragg Swim School Stage at The Tractor Room at Twang
Performance Time: 5:30pm - 6:45pm

Maggie Renfroe is a 16 year old singer-songwriter from Macon, Georgia. She has a soulful sound with a modern twist. She's a free spirit with an authentic connection to her audience. Interested in singing and guitar playing from the age of 7, Maggie is making her dream of a music career a reality with her most recent EP album release, How Did I Get Here – now available on iTunes and Spotify. Maggie is currently working on new songs, performing locally and training with Mama Jan at Jan Smith Studios in Atlanta, Georgia, where other popular artists such as Justin Beiber and Usher have trained. Maggie recently opened for Chuck Leavell of the Rolling Stones in Macon, Georgia. She has also entertained 30A by performing live at Bud and Alley's and at The Hub in Seaside, Florida.